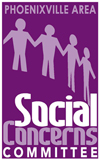 Welcome to the Phoenixville Area Social Concerns Committee website!
Here you can learn about the history of the SCC, our mission, our work and our upcoming events.
SAVE THE DATES
22nd Annual Community Prayer Breakfast
Saturday, April 2, 2016
8:00am at the Phoenixville Area Middle School Cafeteria
Tickets $12 per person
Gospel Choir Concert
Sunday, April 3, 2016
Performances by the Bethel Baptist Church Inspirational Choir, the Grimes AME Church Women's Choir, the Phoenixville Area Senior High School Youth Choir, the St. Paul's Baptist Church (West Chester, PA) Gospel Choir
4:00pm at the Phoenixville Area High School Auditorium
A Goodwill Offering will be taken to benefit community need
Phoenixville's Main Street Bridge Dedication
Monday, April 4, 2016
Join the Chester County Commissioners at the Main Street Bridge to dedicate County Bridge #185 as the Rev. Dr. Martin Luther King Jr. Memorial Bridge
11:00am
The dedication ceremony will be followed by a celebratory luncheon at Bethel Baptist Church, 412 Fairview Street, Phoenixville.  All are welcome!
The luncheon is sponsored by the Phoenixville Hospital
---
Our prayer this day and every day:
God of love and justice, St. Paul proclaimed that "there is neither Jew nor Gentile, neither slave nor free, nor is there male and female, for you are all one in Christ Jesus." As we celebrate your faithful disciple, Martin Luther King, Jr., may we be emboldened by your living Word and by his prophetic witness to rid the world of the sin of discrimination in our attitudes and actions. Help us to seek the unity that Paul and Martin saw so clearly so that all forms of injustice will cease. Grant us the courage and determination to be prophets of peace. May we welcome one another as brothers and sisters, rooted in your everlasting love. Amen.