Phoenixville dedicates Martin Luther King Jr. Bridge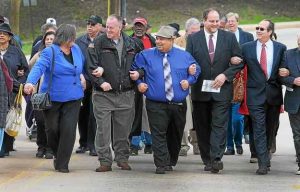 Locked arm-in-arm, local officials and residents walk across the Rev. Dr. Martin Luther King Jr. Bridge in Phoenixville after Chester County Commissioners dedicate the bridge through the efforts of Phoenixville Area Social Concerns Committee on Monday. Gene Walsh — Digital First Media
Unveiling a plaque on the newly dedicated Rev. Dr. Martin Luther King Jr. Bridge in Phoenixville are from left, Phoenixville School District students Aubrey Wright, Sandra Coleman, Zoe Cimo, Chester County Commissioners Terence Farrell, Michelle Kichline and Kathi Cozzone.
Gene Walsh — Digital First Media
PHOENIXVILLE >> Linked arm-in-arm, more than 50 community leaders and borough residents walked across the newly-dedicated Rev. Dr. Martin Luther King Jr. Memorial Bridge spanning French Creek on Main Street Monday morning singing the spiritual hymn "We Shall Overcome."
"I'm overwhelmed with the feeling the community has come together for unity and working for the goodness of the cause Dr. Martin Luther King stood for," said Donald Coppedge, a member of the Phoenixville Social Concerns Committee, whose efforts spearheaded the name change. "That's the reason I pushed to have something that's permanent in this community."
Coppedge can still remember a very different Phoenixville — one plagued with racism, prejudice and segregated between its northern and southern parts by French Creek. Fortunately, it seems the tide has finally turned and the borough has become a much more accepting community, he said.
"This bridge is symbolic," he said.
The dedication ceremony unveiled the bridge's new plaque, which renamed the structure after the late civil rights leader on the anniversary of his assassination, April 4, 1968. Among those in attendance were the Chester County Board of Commissioners, members of the borough government and other business, education and faith-based community leaders.
"We're here today because of the determination and passion of a group that is actively, practically and now symbolically promoting community and racial harmony throughout the greater Phoenixville Community," said commissioners' Vice Chairwoman Kathi Cozzone of the social concerns committee.
Commissioner Michelle Kichline commended the actions of Phoenxiville's community leaders who made the day possible.
"The borough is one of Chester County's great examples of how urban development truly benefits our quality of life," she said.
Several local leaders said the bridge's renaming was a symbolic moment for Phoenixville.
"This is more than symbolic," Mayor Michael Speck said. "This is what we are about — the principles of Dr. Martin Luther King."
Calling Dr. King one of the greatest Americans to ever live, Phoenixville Borough Council President James Kovaleski praised the efforts of the social concerns committee, the work of the county commissioners and King's legacy.
"I'm hoping that this bridge will be the shining example that we have in Phoenixville to his legacy," he said. "And it will help build bridges moving forward and will inspire people to build those bridges."
The bridge dedication followed a weekend of social concern committee activities including the 22nd annual community prayer breakfast Saturday, and a Gospel choir concert featuring area church and school choirs on Sunday afternoon.